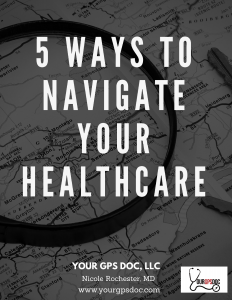 Welcome, Second Episcopal District
Mid-Winter Gathering Attendees!
Have you ever left the doctor's office feeling confused and overwhelmed?
Do you want to learn how to partner with your doctors and take a more active role in your healthcare?
If you heard my keynote address, "Moving From Passenger to Driver's Seat: How to Navigate Your Healthcare in 2018 and Beyond" you know that the healthcare system is broken and that we can no longer sit back and be passive participants in our healthcare journey.
I've created a FREE guide with 5 important tips to help you navigate your healthcare. Click HERE to receive your guide via email today.
Your GPS Doc, LLC is here to help you navigate this journey.